A special UP seminar
Register to watch the recorded session
In collaboration with Opticom International Research, UP will be running a short presentation seminar focusing on how to establish a position as a thought leader in today's digital world and the importance of using market analysis to better understand markets, customers and competitive landscapes.
Please join us in person if you can, but we have limited space available. You also have the option of joining us online as the event will be streamed on YouTube (more details below).
We will also have a special surprise presentation fitting to the season, which we know everyone will enjoy.
The event will end with a traditional Swedish Lucia choir singing seasonal songs.
YouTube streamed option
For those who can't join us in Stockholm for the live event, you may join online via YouTube streaming. Sign up for either option on the form provided to the right and we will provide further details via email. Please specify if you will attend in person or online.
Register to watch the recording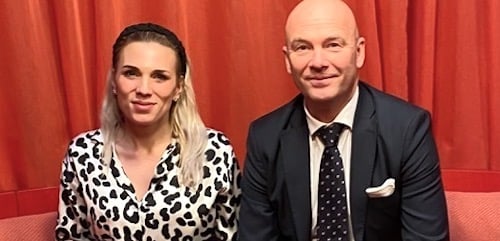 Sandra Palm, UP Global Membership Coordinator
Sandra is head of global recruitment, membership, and engagement at UP. She has 8 years of experience in talent acquisition, employer branding and HR operations. Sandra has worked with startups as well as large global listed organizations. She holds an MSc in Marketing from Stockholm School of Economic. She will be host of the seminar.
Carl-Michael Bergman, CEO, Opticom
Calle is CEO of Opticom and has 35 years of experience in the global market research industry. He is a trusted strategic advisor to some of the world's leading global companies. Carl's passion is to deliver world-class market research to enable cost savings, increased sales, improved margins, and better insights to his clients.

Julian Stubbs, UP Founder & Chairman
Julian founded UP as the first global cloud based agency in January 2011. He has helped it grow to two hundred people today with a global client base. As a brand strategist and writer, he has been involved with the branding of Stockholm, as The Capital of Scandinavia among many others. He is now working with the region of Hamburg on a new assignment.

Robert England, PhD, Head of UP FOR LIFE
As head of UP's life science, medical device and health business sector,
Robert works globally with many of the world's leading life science companies. He has been involved in digital content marketing since the very start. He is a confirmed global nomad and enjoys the international nature of the projects that UP gets involved with around the world.
Presented by

Opticom International Research
Opticom is a leading global consulting and research firm. Our mission is to help our customers improve their results by transforming data and knowledge into strategic advice and concrete action plans. Since our foundation in 1987 we have undertaken hundreds of international projects across the world.

UP THERE, EVERYWHERE
UP THERE, EVERYWHERE is the world's first global cloud based agency. Established in 2011, UP is a full-service branding, marketing and digital agency that operates in Europe, the USA, the Middle East and Far East. We work in a number of business sectors offering our clients a full range of services through our globally distributed teams.